THE SECOND YEAR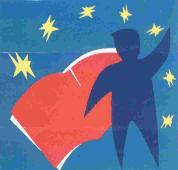 TRADITIONS
FAIRY TALES
CUSTOMS
CELEBRATIONS
CEREMONIES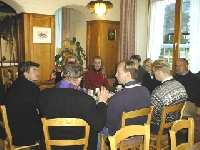 Discussing new ways of common work: people from Austria, Island, Italy and Finland.
Bregenz, November 1998




| | |
| --- | --- |
| | A mail(pen)-friend in Europe for each child |
THEMES AND CONCRETE PLANS:
CHRISTMAS:
The pupils prepare material about Xmas as it is celebrated in their own country. This material is to be turned into webpages before the 10th of December.

Before Xmas the pupils will send Xmas cards and decorations to the pupils of the other partner schools.

Günter Vogel (Hauptschule Bregenz-Stadt) will send a video about Xmas to the schools involved in the project.

ONE STORY - VARIOUS IMAGES
Soon after Christmas the pupils will work to the next project, comparing stories, finding common things and differences.
Deadline is the end of February.

- e-mail adresses for pupils

(at the moment the schools in Iceland and in Finland are equipped, Austria will join in at the beginning of December. There are still financial problems in Italy)

- web-space, the pin-wall in the "comenius-web site" and a forum to make it possible that pupils can exchange information every week.